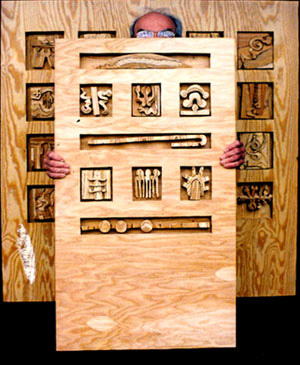 Hugh Townley (1923-2008), the sculptor and printmaker, taught and made art from 1952 until his death on February 1, 2008. He worked primarily in wood, but also made monumental outdoor works in concrete. His sculptures -- reliefs and free-standing works -- are intricate constructions of interlocking shapes cut on a band-saw from many woods, both common and exotic. He used a recurring iconography of imaginative, often whimsical, forms, drawn from nature and his wide studies of Native American culture and Eastern spiritualism.

The patterns of the saw, combined with the grain of the wood and natural imperfections, are integral to the design. On many later reliefs he used vibrant color, creating exuberantly original but instantly recognizable sculpture. His latest work was in plywood. He found unseen possibilities in its construction, exploiting the intricacy of design, of which he said: "The layering of the plywood with its black glue lines and rhythmical repeat patterns, plus its physical versatilities, glue-ability and handsome flatness intrigue me."

In 1955, when he was 32, Townley's work was shown in MOMA's Penthouse Gallery, for New Talent. A critic wrote: "Wherever he has lived, Townley has exhibited. He is completely original, taking no slant from any other artist. The viewer is bound to respect his independence, admire his love of material, especially wood, and praise his excellent workmanship.

Hugh Townley was born in Lafayette, Indiana and grew up in Madison, Wisconsin. At 19, he enlisted in the U.S. Army and served in Europe. On his return in 1945, he enrolled in the Fine Arts program at the University of Wisconsin. One teacher suggested that he study with Ossip Zadkine in Paris, which he did. That experience, and his subsequent year working for the Marshall Plan in The Hague, gave him a valuable breadth of experience in the post-World War II art world. The sculpture he produced during this period earned him his first one-man show. After further studies in Paris and London, he returned to the United States in 1952. Starting at the Layton School of Art in Milwaukee, he embarked on a distinguished teaching career, which included posts at Beloit College, Boston University, and Harvard before he began teaching sculpture and drawing at Brown University in 1961. After his retirement from Brown as Professor Emeritus in 1989, he and his late wife, the artist and writer Mary Ross Townley, moved to a house on the White River in Vermont. The work he produced there maintains its power to surprise and enchant. Townley's vision evolved continually, but his sculpture remained both deeply personal and instantly recognizable. His inventive and individual wit is never far from the surface, and all the works, from the large concrete pieces to the small, intricate Altoid boxes, the many lithographs and drawings, extend the same invitation to exploration and interpretation.

Townley had over fifty one-man exhibitions in major museums and galleries, and was represented in nearly one hundred group shows. In 1972 he received the Rhode Island Governor's Award for Outstanding Achievement in the Arts. Among other honors, he was a Fellow at the Yaddo Foundation (1964) and at the Tamarind Foundation for Lithography (1969). He was honored by the National Institute of Arts and Letters (1967) and the Institute of Contemporary Art, Boston (1980), and was given a one-man show at the St. Gaudens Historical Site in 2002. His work was also included in the National Academy exhibition in New York City in 2004. In the last three years of his life he had five one-man shows and was in two group shows.

His sculpture is in the permanent collections of the Museum of Modern Art and the Whitney Museum in New York, the Museum of Fine Arts, Boston, the Fogg Museum of Harvard University, the Museum of Fine Arts, Houston, the Rhode Island School of Design, the Art Institute of Chicago, the Los Angeles County Museum of Art, Dartmouth College, the Milwaukee Art Center, the DeCordova Museum in Lincoln, Massachusetts, the Amon Carter Museum of Western Art in Fort Worth, Texas and the San Francisco Museum of Art, among other institutions, and is in many private collections.

He has done major installations for Brown University, the Faye School in Southborough, Massachusetts, the Oregon International Sculpture Symposium in Eugene, Oregon, the Oakwood Comprehensive Training Center in Somerset, Kentucky, and American Airlines Admirals Club in Luis Mu–oz Airport, San Juan, Puerto Rico.

Hugh Townley's work continues to be shown at the BigTown Gallery in Rochester, Vermont. In October 2008 Wheaton College in Norton, Massachusetts, will host a large spectrum of his sculpture and works on paper in its Beard and Weil Galleries.









All materials copyright ©2010 Hugh Townley